Postcard Spotlight is an interview series showcasing young leaders and creative minds who are making their mark with their unique talent and drive.
In the spotlight this week we have Mansi Shah, a nature lover by heart who chose to make a difference. With her venture GiftGreen, Mansi turned her passion into a career, creating eco-friendly, low waste products to encourage a greener way of living. Read to know her story.
Tell us about yourself— what inspired you to start your own business?
I am a person who loves being outdoors. Having spent a lot of time in a boarding school, I have stayed amidst nature for some years. While finishing my master's and then working for a short period of time, I started realising that I can't just love nature and admire it, I have to do something for it by working on it full time. My mother was a great inspiration. The way she grew plants at home with so much love and would gift them on special occasions to friends and family and live a low-waste lifestyle was what inspired me to do this seriously. That's when GiftGreen came into action.
What's the story behind your venture, GiftGreen?
GiftGreen was started to make alternatives for festivals. We don't realise the damage we do to nature while we enjoy our festivals. We first started with selling plants in terracotta pots with personalised messages on birthdays and anniversaries. I started making soil and seed modaks for Ganpati at home. During Independence day, I worked on plantable paper to make the Indian flag which had a motto "Don't throw me, Grow me." We then slowly had a team of 3-4 people making rangolis for Diwali which can be grown into plants. After 4.5 years, we have a range of personal care items, low waste lifestyle items for anyone looking for alternatives.
What role does Social Media play in helping you build your brand and reach your audience?
Social Media has played an important role. Before making our Instagram and Facebook page, it was only through word of mouth that GiftGreen was known. But social media helped us reach a wider range of audience and age groups.
What is your favourite eco-friendly product?
Okay, That's a tough one! My favourite would be soil and seed modaks as it holds a very sentimental value and works as a great gift. Any eco-friendly item which is reusable (steel straws, cutlery, tote bags, bamboo brushes) and doesn't harm nature is my favourite.
Tell us about your most memorable DIY project/workshop.
My first workshop was the most memorable one. It was on the basics of gardening, I thought nobody would attend such a workshop, but I ended up teaching 5 children and a few adults who were so enthusiastic and the youngest participant was only 4 years old.
If your life was a book or a movie, what would it be called?
Life Lessons from a Plant 😉
How do you like to spend your free time?
I am usually gardening in my free time. I make sure I learn new things like embroidery, DIY crafts, new recipes, etc. Dying clothes with natural colours is my new free time hobby.
What are the top three things on your bucket list?
1. I wish to grow as many plants and trees as I can, wherever I can.
2. Travel to all the national parks, sanctuaries, and forests.
3. Spend more time with people around the country trying to spread awareness about our environment.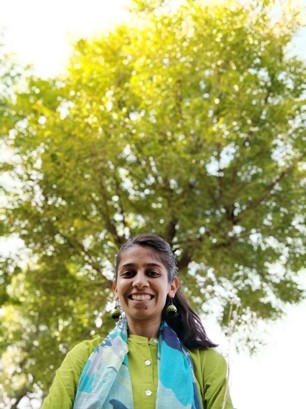 Which are your favourite accounts to follow on Social Media and why?
The zero waste farmer (Manju Kumar) and worm rani (Vaani Murthy) are 2 accounts I really get inspired by.
Where can people get in touch with you?
Email Address: [email protected]