Postcard Spotlight is an interview series showcasing young leaders and creative minds who are making their mark with their unique talent and drive.
In the spotlight this week is Mihir Lele, a visual artist, animator, and designer, whose work doesn't cease to amaze us! His spectacular art is a testimony, not just to his aesthetic sensibility, but also to his nuanced and incisive views. Read on to know his story.
Tell us about your journey – how did you decide to pursue a career in animation?
I was always a creative child in all my classes—school and junior college. I disliked maths, physics and chemistry. I wasn't very good at it either. I hated numbers, but I loved drawing. My school calendars, textbooks and even my answer sheets would be filled with little doodles and illustrations. I remember illustrating little scenes below the answers I wrote in my English/ Hindi literature papers, demonstrating the written answer visually. My teacher once told my mother how it baffled her that I found time in between a 3-hour exam to illustrate these answers. But it came very naturally. I enjoyed doing that. Subjects like literature and social sciences had always been my stronger subjects. So there was always an affinity towards the "arts" side.
Also, my parents were a huge source of encouragement ever since my childhood. They never switched channels when they got bored of watching Cartoon Network, Nickelodeon and Pogo with me, for hours. They used to tell me to draw what I saw on screen—my favourite characters, the scene I enjoyed the most and so on. I think my sense of storytelling also developed because of this encouragement. It became very personal (the importance of which I'd later learn from my mentor in design school).
So, I think a combination of all these factors led to my decision to take the plunge into a creative field. There was never really any other choice for me. As for animation, it was for the love of the medium. I was in awe of anything I saw that was animated. I grew up in an environment where animation was never looked at as a children's pastime. Drawing was a hobby. So I knew it was something I'd enjoy—making a career out of my hobby. I knew I couldn't live day in day out doing something I didn't enjoy. There's no way, even today, I can even think of doing a 9-5 job.
What's the most exciting project or projects you've worked on?
I think my first professional project with AIB has one of the most serendipitous stories behind it. I used to listen to their podcasts while working on my short film in grad school (Ahmedabad). As an admirer of their work in comedy, I made a little caricature of Tanmay and mailed it to him. He replied to that and asked me to meet him if I ever attended any of his live standup shows. I did that on one occasion and met him backstage. When I told him I was studying to be an animator, he discussed the idea of Indian Mario with me.
I jumped at the opportunity and completed the Mario sketch alongside my college short film that year. I managed to graduate with another short film I worked on with AIB. From not being able to cope up with the college workload in the 1st year of animation specialisation to completing 3 full-fledged animation projects (one of which was my graduation thesis) in my last year at college, I did surprise myself.
Apart from that, the series in collaboration with Abish Mathew is something that I always look forward to working on. I get the complete creative freedom to make these short films and these kinds of opportunities rarely come by when you're a freelancer taking up client work. So I'm always excited to work on our collaborations.
Working on the Afsos title sequence was also quite exciting. I got to work with Anirban and Dibya, the creators of the show, and the collaboration turned out to be one of the most fruitful and creatively satisfying ones. When the brief is "there is no brief", the possibilities are endless.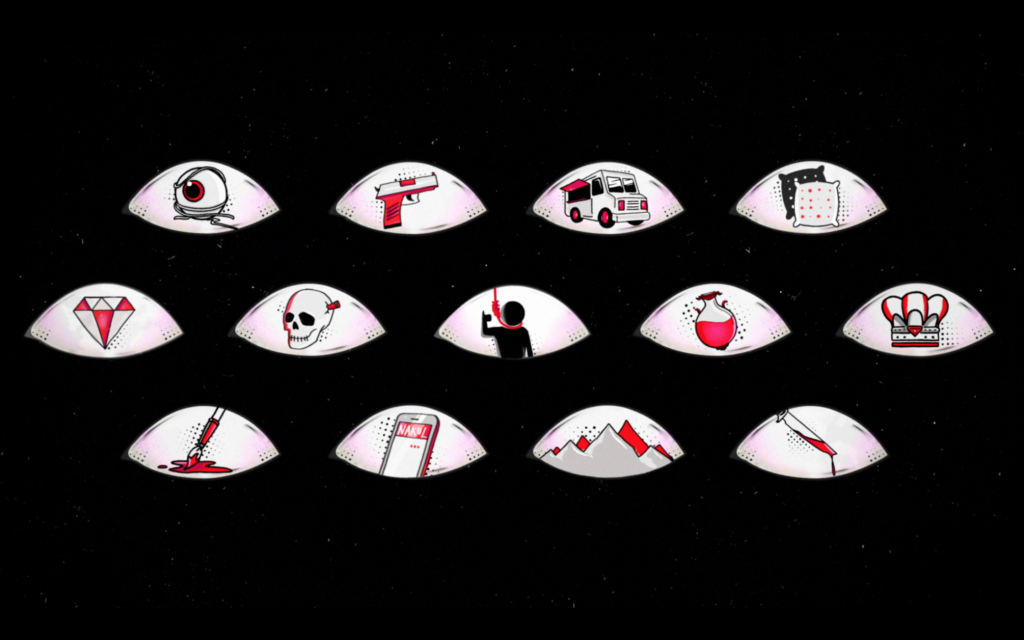 Also, I love working on my own content and telling stories that I want to, that are devoid of any work pressure/timelines/ feedback/ approvals, etc. I try to work on at least one self-initiated project every couple of months, however tiny, to keep putting out content that I believe in.
Do you ever experience a creativity block? If yes, how do you deal with it?
Yes. I think every creative person faces a creative block from time to time. I often face a situation where I feel I have burnt out and have no creativity left in me. There have been times when I've not had enough motivation or drive to complete something, or even start something new. Sometimes even a long break, a movie or some time off doesn't help. I think I don't have one definite answer to this. I have a different process to come out of it each time.
But I have noticed that just pushing myself to do anything just because I have to doesn't help. For me, any good creative product can never be produced without me pouring myself completely into it. So, I take my friend's advice of not being too hard on myself, cutting myself some slack and just giving myself some time because I know that the minute I find something exciting to sink my teeth into or even just one window in, I will give it my all.
Also, I go back to thinking about why I started. I'll spend hours perfecting something, without feeling any fatigue or boredom, if it's something that excites me. I know I've chosen the right profession as I love spending time working on something that interests me.
If you had to describe your experience with AIB in three words, what would they be?
"Invest in People" is my biggest takeaway from my time at AIB.
I learnt that it isn't important whether or not you're working with the best, but it matters if you're working with someone who is giving their best. A person who is truly motivated and excited about making things happen will have more to offer to you and your collaborations.
Skill sets can be acquired. One will eventually get better at anything with time. But one cannot magically acquire work ethics and drive.
Besides animation, what are your other interests?
I've picked up an interest in painting shoes. Just simple acrylics on canvas shoes. I find it pretty therapeutic and it works well as a distraction from my everyday work, which is usually in front of a computer screen. They make for great gifts too.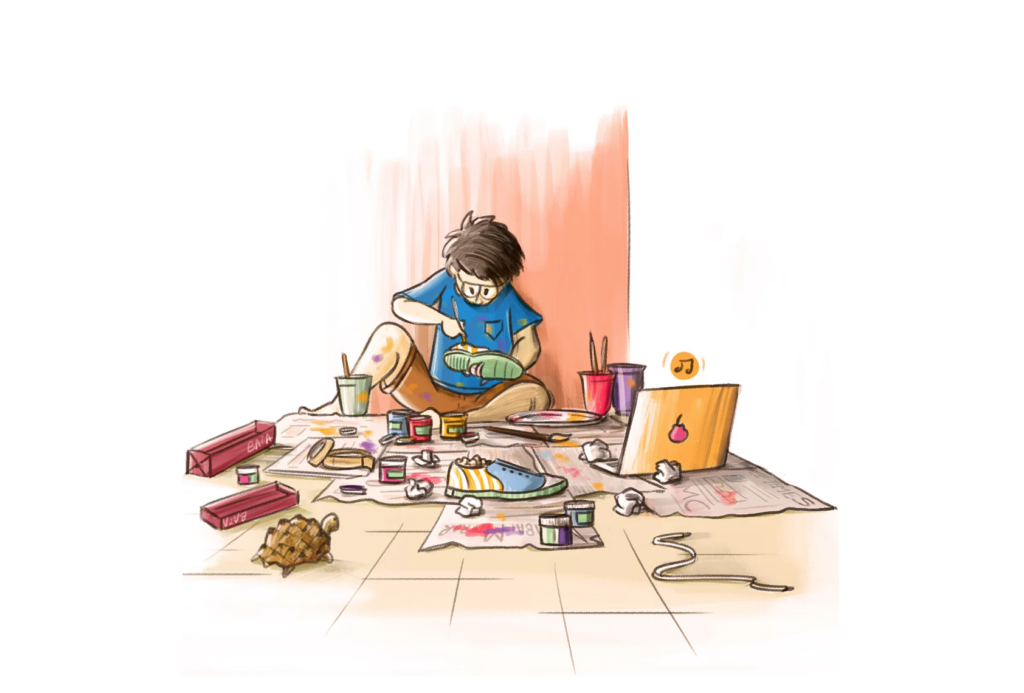 Apart from that, I cook occasionally. I find it all de-stressing—going grocery shopping, prepping, cooking. Nothing too fancy, I make a decent chicken salad, roast chicken and pasta. I am a huge film buff and consume a lot of content. I watch anything and everything.
What advice would you give to someone who's looking to choose a career in this industry?
I think one of my biggest learnings from having spent a couple of years in this field is that your work does not define you, your consistency and sincerity does. Don't make work your be-all and end-all. One is so much more than just the work they put out.
There are so many external factors that contribute to making a project see the light of the day. Sometimes everything works perfectly in sync for the best version of your work to come out. Sometimes, nothing does. So one can never control every aspect of a project. But the one thing one can control is one's diligence in approaching each project. So sometimes one's project will work, sometimes it won't. Sometimes they'll be appreciated, other times they won't. So I would say, see if you're learning a little more than what you already knew from each project you take on, use feedback which you think will help you better your work and cut out the noise.
Which are your favourite accounts to follow on Social Media and why?
One of my favourite social media accounts is that of the illustrator Pascal Campion, for his original style and thought process. Every time I spend a little bit of time looking at his work, I always come out on the other side feeling so inspired. He also does these quick existential comics on his Instagram which are just so profound.
Another account I absolutely love is Ben Marriott's YouTube and Instagram. He consistently puts out motion design tutorials and curates great designs. I always learn something every time I spend some time on his page. I also follow a bunch of animation-related pages like that of Tarun Lak (Pixar Animator), Frame by Frame Animation that does animation related motion, art and design analysis and Vaibhav Studios (for some of the funniest and original Indian animation).
Apart from these, I follow a couple of non-work-related accounts that just make me happy, like @lauraiz (you'll know when you see it) @tuckerbudzyn ( I love this dog!), and @hoezaay (because he's so effortlessly funny each time).
If your life was a book or movie, what would it be called?
My life is still in its early scripting stages. Too early to decide a name for it. I think a working title could be "Barely Adulting" 😛
What's the first thing you want to do once this pandemic is over?
Go to Mondys (Cafe Mondegar, Colaba, one of my favourite places in Mumbai) and get a drink.
Where can people get in touch with you?
Website: https://mihirlele6.wixsite.com/work
Email: [email protected]
Instagram: mihirl