Postcard Spotlight is an interview series showcasing young leaders and creative minds who are making their mark with their unique talent and drive.
In the spotlight this week is Vinay Kaushal, a music educator, guitarist, and composer whose versatility shines through in his melodious compositions. Join us as we discover the inspiration behind his work, his creative process and more.
Tell us about your journey – what inspired you to pursue a career in music?
Music has always been a part of my life. My earliest musical memories are the sounds of my mother playing the sitar. I started playing the tabla around my third standard for quite a few years. The rhythmic instruction it gave me has been invaluable throughout my journey as a musician.
Jump to my teenage years and the world of rock and roll opened up and I took up the guitar. I loved it and got decently good at it quite quickly. I was that popular boy in school who can strum the chords of Hotel California! People egged me on, and I kept playing – exploring Pink Floyd to Pearl jam. I played a few gigs around town which people loved.
I was studying for my BBA, but really only paying attention to my music lessons, when I realised that I couldn't pursue any career other than one in music. Luckily I have very supportive parents who understood where I was coming from. As soon as I finished my course, I set off to the Musician's Institute in Hollywood where I was surrounded by like-minded peers and teachers who made me push myself to be the best I could be. Spending all day every day with my guitar was like being in heaven.
Share the story behind your most memorable gig or project.
This is a tough one. Every single one project has something special about it. Most gigs are incredible too. However, recently I played a one hour long gig for an audience of one. A friend had bought her two year old son over who is fascinated by the guitar. I played him some tunes — everything from nursery rhymes to jazz standards and I have rarely had such a rapt audience. I only stopped because his mum said it was his bedtime. The joy on his face when I let him 'play' the guitar is something I'll never forget. It just shows as a musician, you can't really judge your audience until you've started playing.
Composer, performer, educator – as a musician, you wear many hats. If you had to pick just one of these, which one would it be?
Each of them has their perks. Composing really gives me an outlet for my thoughts and creativity. For me composing and performing go hand-in-hand. However, if I really have to pick then I'd pick being a performer. I love being on stage. There is nothing like playing music to an appreciative audience. Thankfully though, I don't have to pick!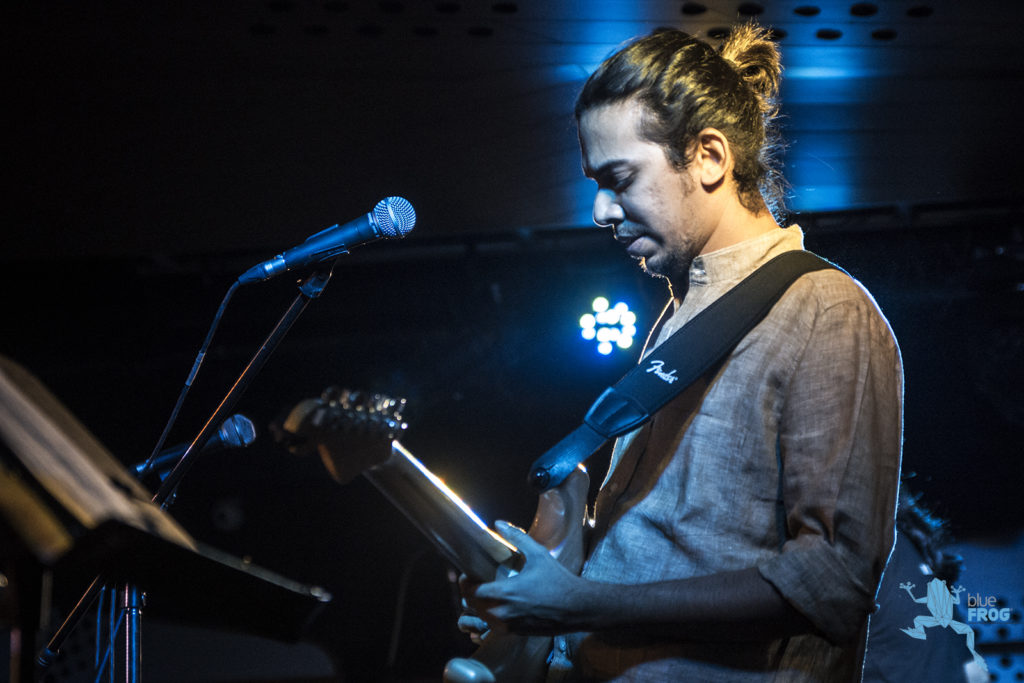 Tell us about the genesis of your latest single, Reality Check.
Reality Check was one of my tunes born during the lockdown. The lockdown was super productive for me as I had the luxury to do nothing else but ideate, write, compose, and produce new music. People know me as that jazz guitar player, but the truth is my rock roots go deep. I was introduced to this band called Widespread Panic by some friends and I was pretty much listening to them on repeat along with bands like Pearl Jam, Incubus, and Radiohead, among others. Inspired by all these greats, I started playing around with an idea that eventually turned into the melody for Reality Check. My wife wrote some lyrics to the tune and I laid down the track, composed the vocal melody, and arranged the rest of the instruments. I then sent it to the musicians who I thought would do it the best justice by adding their expertise and magic to the lines I had composed. First, I sent it to Canada to this amazing multi-award winning drummer, Agneya Chikte, who drove a 100 miles across the country to use a private recording studio as everything else was shut because of the lockdown. Jamir is an old friend and a bassist I really admire and he laid down some incredible bass. Finally, I got in touch with Siddharth Basrur, who I've been wanting to work with for a long time. And it took off from there. Sid was just awesome as I expected and he nailed it in one take. Not to mention the incredible harmonies he laid down.
My next single, out on the 18th of December 2020, has similar origins but features Shakthisree Gopalan along with a few other musicians. Do watch out for it!
If you had to describe the experience of giving a TEDx Talk, in three words, what would they be?
Introspective
Exhilarating
Flattering
What advice would you give to someone aspiring to become a professional musician?
Firstly, you have to be passionate about music itself. The appreciation you get after a good gig from your audience will only come from all the hard work you put into your craft. You need to practice, practice, practice!
I have many friends complain to me about their 9 to 5 job, telling me how lucky I am to do anything I want at my own time since I don't have a day job. How weekends are the only time they get to hang out and let loose a little.
The funny thing is – while I absolutely love the way my life is on a day to day basis, I miss having a weekend too! I'm working round the clock despite what day of the week it is, and I rarely ever have two days off in a row, forget about Saturdays and Sundays since I'm busy with shows!
Touring looks cool — but many people don't realise all the work that goes into it. You have to be prepared to take flights at odd hours, reach your soundcheck straight from the airport, hang around the venue all day until it is time to play your gig, sleep for 3 or 4 hours, catch a flight — repeat. If you're lucky, you may even get in a few hours to practice your instrument.
It can be a hustle but if you really want it — it's extremely rewarding.
What's the one thing you've learnt during or because of the lockdown?
The lockdown was really interesting in my journey as a musician. I've always considered writing instrumental music as one of my strongpoints. This lockdown I started writing vocal melodies too — and I really enjoyed the process. I guess I've learnt that you can do anything once you've put your mind to it.
What are the top three things on your bucket list?
To backpack around South America
To perform at the Royal Albert Hall
To own a teal-coloured Gibson 335
If your life were to be a book, movie or web series, what would it be called?
A-minor to A-major
Where can people get in touch with you or see your work?
People can contact me through my webpage or email for work: www.vinaykaushal.com or [email protected] . They can keep up to date with events and gigs or message me for other stuff by following me on Facebook, Instagram or Twitter.

They can also check out my music and stay informed about new releases by following me on Spotify, Apple Music, YouTube, or any other streaming platform.