Every brand needs a story that strikes a chord with its audience. There are so many exciting marketing campaigns and commercials that not only help brands sell their products, but also capture hearts through heartwarming stories. The TalkOver brings you some of our favourite campaigns of all time, told through our team members' perspectives.
However, we'll let YOU be the judge of it. Read on and tell us which is the better campaign according to you.
This week, we have Team Coca Cola – Chirag and Team Pepsi – Sudhanshu, sharing their favourite Christmas commercial concepts from these two great rivals in the soda industry. 

P.S. – There are no wrong answers. 🙂
Coca Cola – The Letter 
Coca Cola's powerful Christmas commercial has been a breath of fresh air in an otherwise challenging year. Continuing its 'Holidays are coming' truck campaign (airing annually since 1995), the brand doubled down on its efforts this year with 'The Letter.' The heartwarming commercial harnesses the power of nostalgia to encourage everyone to give something only you can give – presence. 
The commercial follows a father who leaves home before holidays to work at an offshore oil rig before realising he forgot to post his daughter's Christmas list. He then sets off on a heroic journey through seas, forests and open terrains to arrive at the North Pole, where Santa waits for him in the trademark Coca Cola truck. The commercial ends on a sweet twist as it reveals the daughter's Christmas wish – for her father to return home.
Directed by Oscar-winning director Taika Waititi – in partnership with Wieden+Kennedy London – and shot in his home country, the spot has also been critically acclaimed. Kantar, a market research company, ranked it as the most powerful advert of the year by organising a poll involving 3000 UK consumers. They were paired with LinkNow AI facial coding technology to reveal the campaign eliciting the most emotional response – all pointing to Coca Cola. This brilliant spot ranked 2nd on Kantar's list of most powerful adverts of the season, just behind Coca Cola's 'Holidays are Coming.'
Final Verdict: Coca Cola's commercial is proof that an impactful campaign resonates with its audience despite a pandemic.
Pepsi – Nothing Else Is A Pepsi
There's always been this huge debate between which cola drink is the better one, Coke or Pepsi? Although Coke was the first one on the scene and still enjoys a significantly higher market share, I have always been team Pepsi. I really don't know why I enjoy Pepsi more. Some say it's my sweet tooth that makes Pepsi my go-to drink as it's sweeter than Coke. But for me, I just like the colours of the logo. 😉
You'll remember those typical videos your friends used to share of foreign commercials? Or was it just my friends? Anyway, I found this gem of a commercial on a 700 MB CD during my school days.
This is one of my favourite commercials from Pepsi made during the festive season of 1996.
The commercial shows 2 drivers, one from Pepsi and one from Coke, who stop at the same diner during the festive season. Tired from their long haul drive in the winter, they find themselves sitting on the same counter. What follows is a classic case of foes turning friends, particularly due to the festive nature. The conversation the drivers have about family and holidays is just so wholesome, before…. I won't get into the commercial, no spoilers. This sweet and hilarious commercial is one of Pepsi's most recognised commercials even today. Ranked among the top 10 commercials of all time, by a popular video blogger, this is one of the first foreign commercials I had seen. As a kid living this rivalry with my brother, who is a Coke fan, just made me associate with this concept even more. Also, I don't know why but this ad just reminds of that dialogue from Home Alone – "Fuller, go easy on the Pepsi!"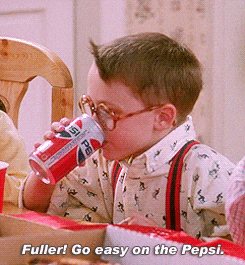 Everything about the commercials just gives me a feeling of winter – cake, movies and of course, Pepsi. It's even more special now considering the commercials that either Pepsi or Coke come up with have a celebrity aspect to it and a strong opinion on current events. Although it does act as a platform to call out what is happening in the world, it turns its back on the focal point – the drink itself.
The commercial aired on American television from November 1996, and the lead agency for this project was BBDO NY, USA.
Which do you think was the best commercial? Tell us in the comments.